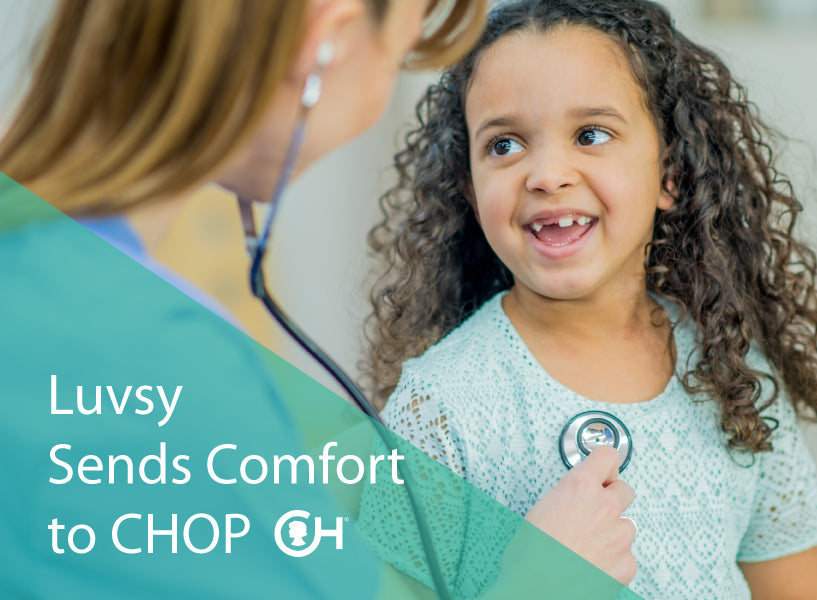 Meet Give Luv™ Recipient - Children's Hospital of Philadelphia
Luvsy is proud to select The Children's Hospital of Philadelphia as it's next Give Luv™ recipient of 30 Luvsy Blankets to be handed out to patients. 

Children's Hospital of Philadelphia (CHOP) is the United States first hospital devoted exclusively to the care of children. Established in 1855, CHOP is known for medical discoveries and innovations that have improved pediatric healthcare and saved children's lives. Families from all over the world visit CHOP for complex pediatric medical conditions.



A Charity Close to Home
Luvsy Founder Rebecca Rescate had a first-hand experience at CHOP with two of her children, one of whom had an overnight stay at the hospital.
I distinctly remember arriving to CHOP by ambulance with my son and he was immediately handed a donated stuffed-animal to soothe him. I am proud to donate Luvsy product to CHOP so that our blankets can be given to children at a time they need comfort most.
Luvsy Founder Chris Hindley has also used the state-of-the-art facilities at CHOP for his triplet daughters not long after they were born. Both Founders are grateful to have such a facility so close to home and are thrilled Luvsy blankets will be in the hands of its patients. 
Nominate Your Charity
Everyday Luvsy gives away a blanket to a community or charity in need in 2018. Our goal is to bring love and comfort into the communities and homes that need it most. If you have a charity or community you would like to nominate to receive free Luvsy products please fill out our form here. We look forward to hearing from you!